BOOPIE DOOPIE
Professional illustrator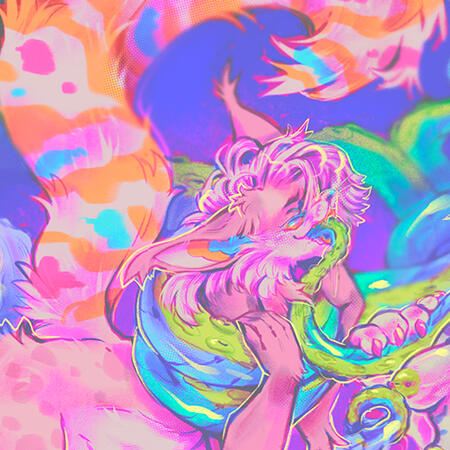 Terms of Service
When commissioning me, it's expected you've
read and agreed to my terms of service.
Please, take time to read carefully, this is our contract!
🌟🦄🌟[Do and Don't do]
✅
SFW and NSFW art (always ask if I'm comfortable with your NSFW project)Humans, ferals, furries, pet portraits…Ref sheets (not always open for it)Custom characters (not always open for it)I love doing experimental pieces or trying new brushes, but the final piece may be unexpected! They usually are discounted. You can always tell me your budget and I can draw something depending on that.❌
No illegal stuff like: cub porn, feral porn, rape, incest.. Well, you get itI usually don't do robots, but depending on the character, I could try! Just ask meExtreme gore/Extreme fetishes
[ToS] 🖋️
My work schedule is from Monday to Friday. Be patient about receiving an answer/a piece. You usually won't get a reply before monday.I will no longer send updates over social medias. Please subscribe to the newsletter on my Carrd or check the page often to be informed as soon as there is a new update about commissions.
Subscribe to the Newsletter
- You must be 18 or older to commission me. An ID will be requested for any NSFW commissions.
[HOW TO CONTACT ME] 💬
- Say hi! Go straight to the point. Be sure of what you want beforehand unless you let me all freedom. Best is filling a form directly through my Carrd for a commission.Be clear and concise.
- I am human, a minimum of respect and courtesy shouldn't be an option. Stay polite and respectful! Or I won't take your project.
- If you DM to judge my prices, ask for free art: You will get blocked and I won't work with you. I workt with you not for you.
- When discussing your project in DMs, I take my time for you: Please, do the same for me. Avoid taking +20 mins between each message to reply. Or just fill a form when you're ready.
- When wips are being sent to you, I expect you to be honest and clear. The wips are there for you to validate or ask for changes (only at the sketch stage. Not after the lines are done). I won't do ANY change after you confirmed!
- Be 100% sober when commissioning. Respect me, my work and time spent for you.
- Don't send several messages to know if your piece is in progress/done! It's very stressful, and I always keep my commissioners in touch as soon as I start working on their piece! I recommend you NOT commissioning me if you expect your piece being done in a short time (minimum wait of 2 months must be expected)
[CREDIT/REPOSTING]⚠️
==THE FOLLOWING IS NOT AN OPTION==
FOR ANY ART I SEND YOU, if you wanna share to other platforms, there are two simple steps:
1) Ask me before (and this should be the same for any other artist).
2) CREDIT ME. The signature on the picture IS NOT enough! Add a link to my medias/my website.
If you don't credit me, I will contact you and ask you to do it. If I have to ask for it several times for different commissions, I will no longer work with you in the future.
[WIPs]
When I send you wips, it's for you. You're allowed to share with your friends, in a closed space, to a few people... not publicly on the internet please. If you really wanna share, just ASK ME BEFORE. Wips are a process, often not signed, is a very personal step so it makes me uncomfortable to have them shared publicly without my consent.
[COMS INFO/LINKS] 📌
- My prices are referenced below but may vary depending on the project.
Prices & examples
- I work with commissions forms. Fill the form if you wanna commission me (Not first comes first served)
- My commission queue isn't in a fixed order. I work depending on inspiration or sometimes on several pieces at the same time!
Commission queue
- IN PROGRESS! --NOT AVAILABLE YET!***-- My updates are all listed on my website. Please subscribe to the Newsletter to get any new posted updates directly in your mailbox.
- Join my Discord server for more flash commissions opening, art streams and wips!
- If you ain't ready yet for a piece, you can still contact me for questions but come back when you're actually ready to pay! Your project won't be discussed if you don't plan on commissioning me before a month or two.
- If you wanna receive wips, ask for it please! I usually send some, but depending on the complexity often I don't feel the need to. Sending wips is never an obligation.
- If you want to get wips, be responsive as soon as possible so I can keep working on your piece as soon as I can. Reviews are also important! Be honest.
- I work better with a minimum of freedom. My style may vary since art is endless in progress.
- You HAVE to provide a reference sheet of your character OR minimum one CLEAR art piece of the character to be able to work on a regular commission piece (preferably front view, face very visible and full body). The picture must be a good quality one (not taken with your phone) and must be fully colored or I won't work from it. If you don't have any, it's then a custom commission. I won't work from nothing unless for customs and I'm not always open for them! Ask if I'm open if needed.
- I have all rights to refuse working with you or even stop working with you without giving a reason.
- I don't set deadlines, because life happens. I recommend to always take a look on my Carrd where I post updates about my life if something's happening! Be understanding please, it's also your responsibility to look for updates. Updates
- If you want me to make changes on your piece, PLEASE tell all the important things before the piece starts and only smaller changes are allowed at the sketch phase (up to 3). Or I will have to charge additional fees. I won't do any more changes that should've been told upfront no matter the complexity.
- You can't ask changes at the very last minute for something that should've been said upfront. It's not allowed either when you're in-stream with me! But don't hesitate to tell me in-stream if I forgot something.
- NO HOLD: Unless I suggest it to you or if you're a member of my Discord server.
- The commissioned piece is for personal use ONLY. You aren't allowed to sell it or reproduce it! You aren't allowed to use the design for a tattoo either unless the design has been made for that. You can print it for yourself if you want, which is for personal use.
[PAYMENTS] 💸
- Payment always upfront, price is in USD, payment through PayPal.
- I make payment plans for +200usd commissions (split in two, can be discussed).
- I charge fees for NSFW commissions/different versions, same if you want me to add clothes on your character(s). More info on my Carrd.
- I am the only one sending invoice(s). Do not send me money by yourself!
- I'm not responsible for your own mistakes. If a payment is sent by mistake to me and you need me to refund it, 25% fees will be applied for my time and fees I'll have to pay back to Paypal.
- Payments needing a refund due to being intoxicated or otherwise inebriated with incur fees and I'll no longer work with you as a result.
- NEVER ask for lower prices/discounts. My prices are what they are, you don't like? Just move along. When I make discount offers, I say it! I often do discounts, stay aware! You can't have more discounts on an already discounted offer either.
[REFUNDS]💲👛
- No refunds.
- You have NO RIGHT to ask for a refund and use the "I got no update" excuse when it's stated right here to check my Carrd for updates. This is also your responsibility to do so! I have several clients, and it just helps if you make that little effort and be a minimum understanding.
- You have NO RIGHT to chargeback/ask for a refund when you reach me not even ONCE for updates. I work on other pieces, I have things going on too. If something's wrong with your purchase, you contact the seller, this is how it works and we figure out a solution together. Keep in mind: I'm absolutely not a bank!
- You have NO RIGHT to ask for a refund for NO REASON. KEEP IN MIND: Even if we discussed 3 weeks ago, if your commission is for the next month, the waiting starts the 1st of that NEXT MONTH, after full payment. Waiting 3 weeks for a big piece (big piece: full body flat or shaded and more) isn't LONG and I'm not a robot. I expect a minimum of humanity! Don't forget: MINIMUM WAIT IS 2 MONTHS.
Again, I recommend you NOT commissioning me if you expect your art piece being made fast.
- Be UNDERSTANDING. Be HONEST. If you want a refund, just be clear, tell me why. If you have money issues I can understand! That happens. But I am not a bank either, understand that I have my own issues and bills to pay too. I can't refund everyone asking me to even if I wanted to!
Refunds are accepted ONLY if EVERYTHING listed below are affective:
1) I haven't started your piece yet after 8 weeks (doesn't especially start from the moment we first discussed your commission, but from the moment I said I should be able to start);
AND
2) You contacted me more than once for updates and you got no answer/got ignored;
AND
3) If I never posted any update on my Carrd about possible events making things slower;
If NONE of these weren't provided, then yes you can get a refund.
[COLLABORATIONS] 🤝
- I sometimes do collaborations. If your commission is one of these, keep in mind we're two working on your piece! Don't expect your art piece being completed quickly.
- When purchasing a piece from a collab, you will receive two separate invoices you will have to both pay upfront.
- The piece can be started only after full payment is sent.
- My ToS aren't especially the same for my collaborator(s). Please take time to read theirs as well if they have any.
[ADOPTS/CUSTOMS] 🧸
[Adopts]
- NO REFUND: All sales are final!
- Payment plans: Only available if stated. NO REFUND STILL STANDS: That means no cancellation possible for whatever reason because I'm not a bank! I am the one deciding on the payment plans, usually split in two. Usually must be paid within 2 weeks maximum unless stated otherwise/discussed together. The files will be sent only after full payment. If any additional art commission is included with the adopt, it will be done after full payment only. First payment must be done within 24hrs after claiming.
- You must pay within 24hrs after claiming/offering (if no payment plans).
- I will send you the files only after payment.
- You're not allowed to make changes directly on my art. If you need to, ask me and I'll make the changes myself. Fees may be applied.
- You can make any change on a character I made as long as we recognize them a minimum.
- Credit me: I still withhold the copyright for the initial design and for my art.
- You can resell the character at the amount you've bought it for or more if you got more artworks with it.
- NO CHARGEBACK. But if that happens: at any moment, I'll have to reclaim the character + the arts you've got if it's the case! Which means the character returns to me, copyright to myself. And I'll have to blacklist you from any other future sales.
[Customs]
- You must provide visual examples as references to create your piece and be clear about what you want: Species, color palette, gender, bodyshape, personality, are often the minimum needed.
- I don't work from long text description! Be short and clear when describing something like a personality.
- You DON'T choose the pose for a custom piece in any occasion (ref sheet simple pose type)
- Custom pieces are flat (because ref sheet). I charge $25 more if you want a shaded version
- I may charge fees if the character is complex. By example: double heads, wings, complicated hybrids/species, pattern, etc.